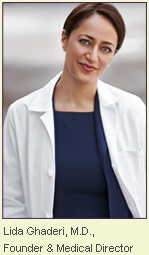 All hormone replacement therapies are not created equal. Just because a treatment is advertised as "bio-identical" doesn't mean it's what your body needs – not until your unique genetics are fully understood.
Most treatment centers test a limited set of hormones in your blood or saliva, and typically replace only a few hormones. This is not enough to generate the right prescription of bio-identical hormones, and the wrong regimen can be unsafe.
To ensure safe bio-identical hormone replacement recommendations, it is imperative to have a physician who understands your genetics and who can design a treatment plan for your body.
At CENIGENT, we utilize personalized genetic testing and conduct a thorough genetic investigation of cancer susceptibility and other health risks, and evaluate how your unique genetics impact your hormone breakdown before recommending a custom hormone therapy regimen.
This allows your hormone program to be safe & personalized to YOUR BODY to maximize your health.
OUR DIFFERENCE = YOUR BENEFITS
3 X More Hormone Testing Than Others
Check Hormone Binding Proteins
Hormone-Related Genetic Testing

Lower Cancer Risk
Improve Future Immune, Cardiovascular and Bone Health

Full Body MRI Tumor Imaging
(Created by UCLA Exclusive to CENIGENT)

Higher Safety
Radiation Free & High Safety
Detect Early Signs of Cancers
Not Available Elsewhere

10 X More Tumor Marker Testing Than Others
Checking for Two Types of Estrogen in Men

Protect the Prostate
Better Libido & Sexual Function
Minimize Dementia

Check Estrogen Breakdown Products in Women

Protect Against Breast Cancer

Additional Biomarker Testing

Improve Immune & Cardiovascular Health
Identify Risk for Diabetes, Stroke, Anemia & Others

Neurotransmitter (Brain Chemistry) Testing

Improve Mood, Memory, Anxiety & Depression
Improve Stress Handling
Favorable Hormonal Support

Personalized Research & Therapies - Based on Genetics

Higher Safety
Achieve Optimal Health
Minimal Side Effects

Nutrigenomics – Custom-formulated Supplement Powder Based on Individual Genetics & Health

Favorable Hormone Support
Brain-chemistry Balancing
Superior Results
Minimal Side Effects

Concierge

Ample Time with Your Physician
Unrushed Visits
Convenience
5 STEPS TO REGAIN YOUR VIBRANT HEALTH
Step 1: Predict

Comprehensive Health Assessment
Cutting-edge & Exclusive Testing (In Partnership with UCLA)

Step 2: Personalize

Extensive research & review of your testing and genetics
to create a safe and program
Ongoing monitoring & Concierge Benefits

Step 3: Prevent

Personalized nutritional plan and other recommendations
based on your health risks

Step 4: Treat

Custom formulated nutritional supplementation and prescriptions
based on your genetics to support your hormone program and minimize
your health risks

Step 5: Restore

Personalized, safe, neuro-hormone restoration program based on
your genetics